Growing Together Campaign
In 2020, we were able to complete construction of the "Angel Charity for Children Culinary Education Center," a 3,600 sq ft building which houses a commercially certified teaching kitchen, offices, a retail space, and classroom. Surrounded on all sides by 7 acres, this amazing resource is well on its way to becoming a tremendous resource for our whole community. 
While many of the big projects are behind us, what lies ahead is our vision to transform the 7 acres into educational spaces that inspire learning, growth, exploration, and discovery: think shade structures, a livestock barn, pastures, greenhouses, an orchard, a children's garden, and more!
TVF is a charitable organization

 under the University of Arizona Foundation
Although we are a program of the University of Arizona, we rely solely on grants, small program fees and private donations to keep our programs running. Your tax-deductible dollars really make a difference and we appreciate your support. 
Here's a glimpse at some of our Priority Projects and Programming:
Indoor learning space on the farm
We've learned over the years that we can't keep farm campers outside under the hot desert sun all day during the summer months. To break up the day of harvesting, cooking, and farm chore-ing, we need a cooled indoor space to give kids a break from the heat and experience valuable indoor programming. Help us build a classroom to extend our reach into the hot summer afternoons. 
Updated Numbers: 
Goal: $148,000    
Amount raised: $4,400
Children's garden
Imagine a child-centered kitchen garden just steps away from the teaching kitchen. TVF's Children's Garden will be a sensory, experimental learning space adjacent to the kitchen where you can pull veggies straight from the soil and then bring them into our kitchen where they will prepare delicious, healthy foods. In this enchanting garden, exploration and discovery await every turn!
Updated Numbers:
Goal: $42,000  
Amount raised: $16,000
2023 Camp scholarships 
Every spring we work tirelessly to raise funds so that we can offer scholarships to low-income youth. This funding allows us to provide scholarship to 60 children each year so that they, too, can participate in our farm to table summer camps. Your gift of $20,000 will provide 60 under-served kids an opportunity to learn and grow on the farm this summer while freeing up many hours of our staff time that could be spent educating youth rather than fundraising! 
Updated numbers:
Goal: $20,000    
Amount raised: $25,000
Animal education center
Here at TVF we dream of incorporating meaningful livestock content into our suite of agriculture programming. Now, in our new space, we have the opportunity to do just that. We simply need your help to build a barn to house goats and other livestock animals. Cost also includes pens, an outdoor area where our animals can roam and interact with program participants, and the day to day operations of livestock care and programming for three years. Help us to incorporate animal husbandry into our diversified farm model-based curriculum. 
Updated Numbers:
Goal: $210,000    
Amount raised: $2,000
Solar Power
For all our talk about shade, we are ready to put the sun to work for us by harnessing some of that solar energy that is so abundant in Arizona to help offset our utility costs! Our 1,600 sq ft culinary ramada offers the ideal platform for installing just the right number of solar panels to lower our carbon footprint, reduce our monthly utility bills, and teach kids about renewable energy. 
Updated Numbers:
Goal: $82,000  
Amount raised: $0
Tucson Village Farm is a charitable organization under the University of Arizona Foundation making your gifts tax-deductible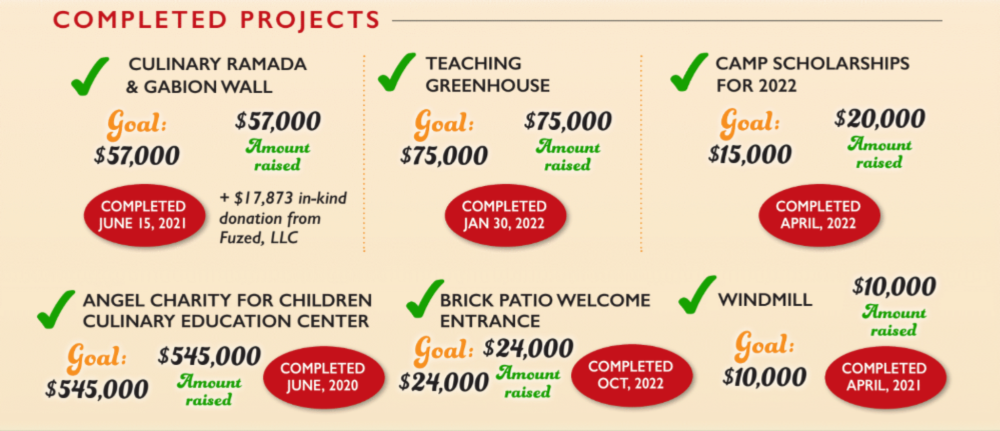 Tucson Village Farm greatly appreciates donations in any amount to help grow our urban farm build by and for the youth of our community. 
Gifts of $250 and up will be acknowledged with your name on a permanent brick on the patio entrance to the farm. 
Gifts up to $5000 will be acknowledged on a 'Friends of the Farm' plaque in our culinary arts kitchen. 
Gifts up to $10,000 designated for a specific structure on the Farm will be recognized with an acknowledgement plaque on the structure.